After following the previous guide, we now have our Wii U fully softmodded with Coldboot Haxchi. We now have the ability to run unsigned code and all future updates (If there are any) from Nintendo are now blocked.
So, what can you do with a modded Wii U? I am going to list out some of the cool things you can do here: –
How to back up your Wii U games to USB
We shall be installing the latest version of Disc2app. As you can guess, the name is pretty self-explanatory, it converts your disc-based Wii U game to an application file that you can launch like a digital game.
Backing up your Wii U games means you will always have them on hand and don't have to bother finding the game disc, this not only saves time but also helps preserve your game discs.
First, we want to download the latest release of Disc2app which we can find here: –
https://github.com/koolkdev/disc2app/releases/tag/v1.0
Download and extract disc2app.zip to the root of your SD card. Once that is done, put the SD card back into the Wii U, boot up the console and Launch the Homebrew Channel. Navigate to disc2app and load.
Press A to select your SD card as the place where the game is going to get dumped.  (This is another reason I recommend having a 32gb SD card.)
You will be prompted to insert your game Disc, for demonstration purposes I will be dumping my copy of Super Mario 3D World.
Once your game is inserted, Disc2app will automatically start dumping your game. How long this takes depends on the size of the game. Super Mario 3D World is one of the smaller games at a size of 1.6GB and takes about 12mins to dump.
Most Wii U games between 8 – 12gb, however, some like Xenoblades can be as big as 20gb so will take a lot longer to dump
Once completed, you will be able to find your game on your SD folder. It has automatically been put into the 'Install' folder, however, if you wanted to you could now copy your dumped game over to you PC.
How to Install and Play Wii U Backups
We now have our dumped game files on our SD card in the 'install' folder. With the SD card inserted into the Wii U, head over to the Homebrew Launcher. Navigate to WUP Installer GX and load.
You will see your game ready to be installed, you can either install it to the NAND (Internal memory) or preferably to USB. I am going to choose my USB HDD.
With the game successfully installed, we can press the home button a few times to exit out of WUP Installer GX and be returned to Wii U main menu. As you can see, we now have installed as an application Super Mario 3D World as well as the disc still inserted, which means I can eject the game put it back on my shelf to be never touched again!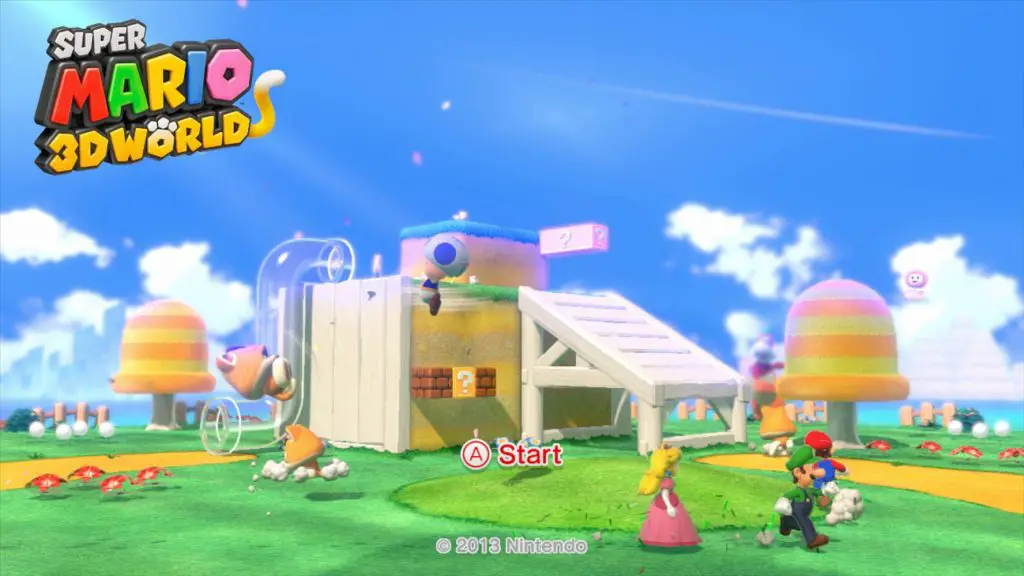 You probably know this already, but there is a Virtual Wii console living inside your Wii U! The original Wii is such a great console with a great library of games, it was always very popular (and easy) to mod. This would allow for backups, Homebrew and all that fun stuff.
Last year Nintendo shut down the Wii Shop channel for good, unfortunately making a lot of good games unavailable. They are still out there; people have been hard at work archiving this software, but if you want to find them you will have to look elsewhere.
Luckily, with a few pieces of software, we can mod the Virtual Wii (vWii) and have access to all the cool features the Wii had which includes loading GameCube games.
We need to get a few files downloaded and on to our SD card, so if you have done it yet, put your SD card into your PC or SD card reader.
First up we need wuphax, this will let you back up your Mii Channel on your vWii and inject wuphax to it. You can always restore your original Mii Channel later from the SD card by running this program again. You can find a precompiled version of wuphax here http://wiiubru.com/appstore/zips/wuphax.zip. Extract this to the root of your SD card.
Next, we want the Installer, to be precise, we only want the file 'boot.elf'. Download Installer v1.2 from here https://bootmii.org/download/ and extract the boot.elf file to the root of the SD card. This is the main exploit file and will allow us to install the Homebrew Channel within our vWii.
If you have followed part one of the guide you should already have the Wii U Homebrew launcher installed.
Download the following two files and extract them to the root of your SD card: –
These apps will let you patch your vWii to allow running of Wii backups and will also allow you to make a NAND back up of you vWii in case anything goes wrong!
Insert your SD card into your Wii U. Boot up and head over to the Homebrew channel, Find and load 'wuphax'.
With wuphax open press 'A' to make a back up of your vWii Mii channel and the installer will replace it with HakMii.
The Wii U will reboot to the main menu, from here open up the vWii launcher and select your Mii maker channel which will load up the HakMii installer.
There will be a splash screen that shows for about 30 seconds explaining that this software is free and if you have paid for it you have been scammed! Read the message and when prompted press '1' to continue.
Select continue and then select 'Install The Homebrew Channel'. Confirm that on the next prompt and the Homebrew Channel will begin to install. When complete you can exit out back to the vWii main menu. You should now have the Homebrew Channel installed on you vWii.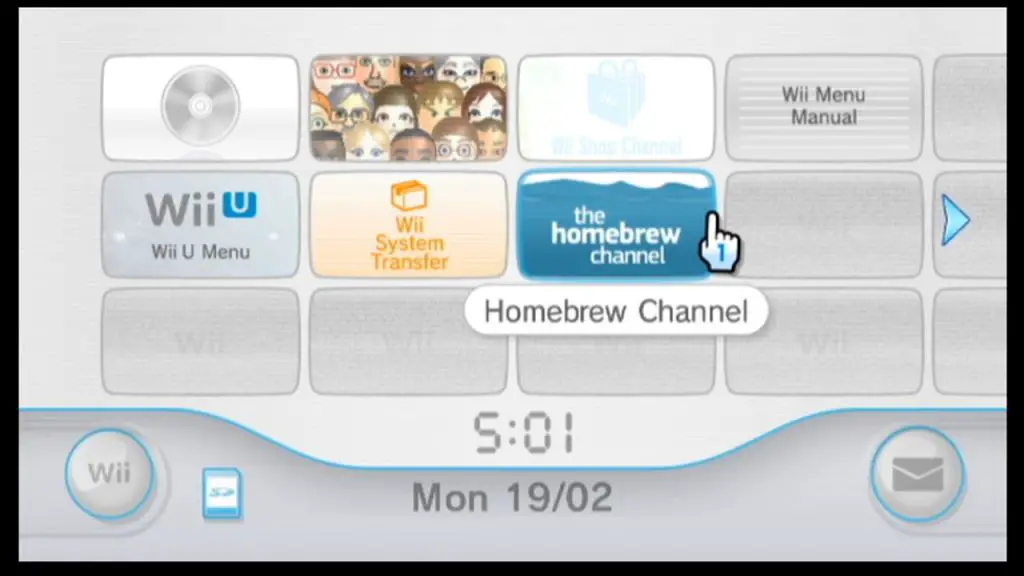 With the Homebrew Channel now successfully installed on your vWii, we will want to restore the Mii channel. Head back to your Wii U's main menu and select the Homebrew Launcher. Once again launch Wuphax but this time select 'B' to restore the Mii Channel back. Once completed we can exit out.
We can now some Homebrews from the vWii, however, I would recommend patching it using cIOS to run more complex homebrews like backup managers and GameCube games.
This is optional, but I would highly recommend it. If anything goes wrong and you have a backup of your NAND, you can probably fix it.
First, launch your vWii, head over the Homebrew Channel. Launch the Homebrew channel and select the Homebrew 'Dump Mii NAND'. Thankfully the vWii's nand is a lot smaller than Wii U but do be prepared to wait while the NAND is dumped.
Once it is dumped, I highly recommend taking the newly created files 'keys.bin' & 'nand.bin' from your SD and backing them up to your computer. Keep these files safe as we are going to patching some of the system files shortly and this could possibly save you from any issues going forward.
Installing Custom IOS files
cIOS are basically patched software that allows us more access to the inner workings of the vWii. This is what will allow you to install 'Unofficial' channels to your vWii menu, as well as backup loaders.
We want to install 3 custom IOS so boot up the vWii's Homebrew Channel and launch d2x cIOS Installer. Set the options to match the following before pressing 'A' to install: –
Select cIOS : d2x-v10-beta52-vWii
Select cIOS base : 56
Select cIOS slot : 249
After that has installed do the same for this: –
Select cIOS : v10 beta52 d2x-v10-beta52-vWii
Select cIOS base: 57
Select cIOS slot: 250
And then this one: –
Select cIOS : v10 beta52 d2x-v10-beta52-vWii
Select cIOS base : 58
Select cIOS slot : 251
Once that is installed press 'B' to exit. Now, there is only one last step to be done before we are fully modded. We need to patch system IOS80.
To patch IOS80 we need to head back over the vWii Homebrew Channel and launch 'Patched IOS80 installer for vWii'. Read the giant wall of text and press 'A' to install.
Once that has completed you can press any button to exit out of the app and return to the Homebrew Channel.
You now have a fully modded vWii that can load homebrews, Wii backups and GameCube games!
You can find part 3 of this guide here where I will show you how to use USB Loader GX to play your Wii game backups, Inject custom games into the Virtual console and how to run GameCube backups.